Magic and Aloha-Spirit in her heart
Corinna's story begins at the age of 9 in Hawai'i
Corinna's grandfather moved to Hawai'i in the 1970s, where he remarried and also pursued spiritual healing. When Corinna was nine years old, she traveled to Hawai'i for the first time. From the first moment she felt deeply connected to the islands. She was deeply impressed by the intense scents of the tropical islands and felt the Aloha spirit for the first time.
Her grandfather's pink residence at Diamond Head on Oahu was built right into the black lava, with waves of the turquoise Pacific Ocean lapping onto the rocks. The house was so special that even an episode of "Magnum" was filmed here. The coconut palms rustling in the gentle wind in the green garden with all the beguilingly fragrant tropical flowers – all this left formative memories for little Corinna.
She kept the traditional flower wreath (lei) on her pillow – usually woven from tuberose or plumeria blossoms – that she received from her Hawai'ian family at the airport as a welcome gift, until the day of departure, and would have loved to take it home with her. So she decided to keep the magic and the aloha spirit in her heart.
Retreats in Hawai'i
Since 2014, Corinna has been teaching wonderful retreats on the Big Island, Hawai'i, together with her husband Jörn. The two are not local, but after a total of many, many months on the island, they are familiar with the place. Participants can experience the magic and aloha of Hawai'i, mindfully guided through wild nature. The highlight has been swimming with wild dolphins several times.
Corinna and Jörn are freedom-loving world wanderers, who love to travel and visit different places of our world together again and again. Hawai'i, Bali, Thailand and Iceland, among others, are closely interwoven with the genesis of Aloha Senses Natural Perfumes.
First Sprays for Aura & Senses
In a first intuitive step towards today's complex natural perfumes, Corinna produced her first collection "Sprays for Aura & Senses" in her manufactory in Kiel in 2010. She had high standards for herself even then and brought a lot of love and intention. Back then, Corinna already had a sensual feeling for optimal, balanced fragrance compositions.
The first flower essences for our natural perfume are created in Hawai'i
Two years later, Corinna began lovingly handcrafting the mother tinctures for her first Aloha Essences flower essences on the Big Island – Hawai'i's largest island. In the middle of nature – right where the flower grows.
During their first days on the Big Island, the two had taken up residence on a farm in the mountains above the town of Kailua-Kona. There, however, Corinna had an intense dream that felt like exact instructions for making flower essences. The urge to follow this "impulse" was tremendous. As always, Corinna was inspired to create something new – according to the motto: be moved and move more.
Where do you get the lab equipment you need in the tropical, beautiful Pampas? As so many times before in her life, Corinna magically received exactly what she was looking for. Over the course of several weeks, Corinna and Jörn crisscrossed the island to find those powerful places where the appropriate blossoms could be found, according to almost daily, continuing "ideas".

Within six weeks, Corinna intuitively made her first 16 Aloha Essences flower essence mother tinctures. It is only later that Corinna learned that the production of flower essences and plant elixirs was based on healing methods that are thousands of years old. Alchemists, sages and kahunas made such elixirs to heal disorders in people's bodies and systems.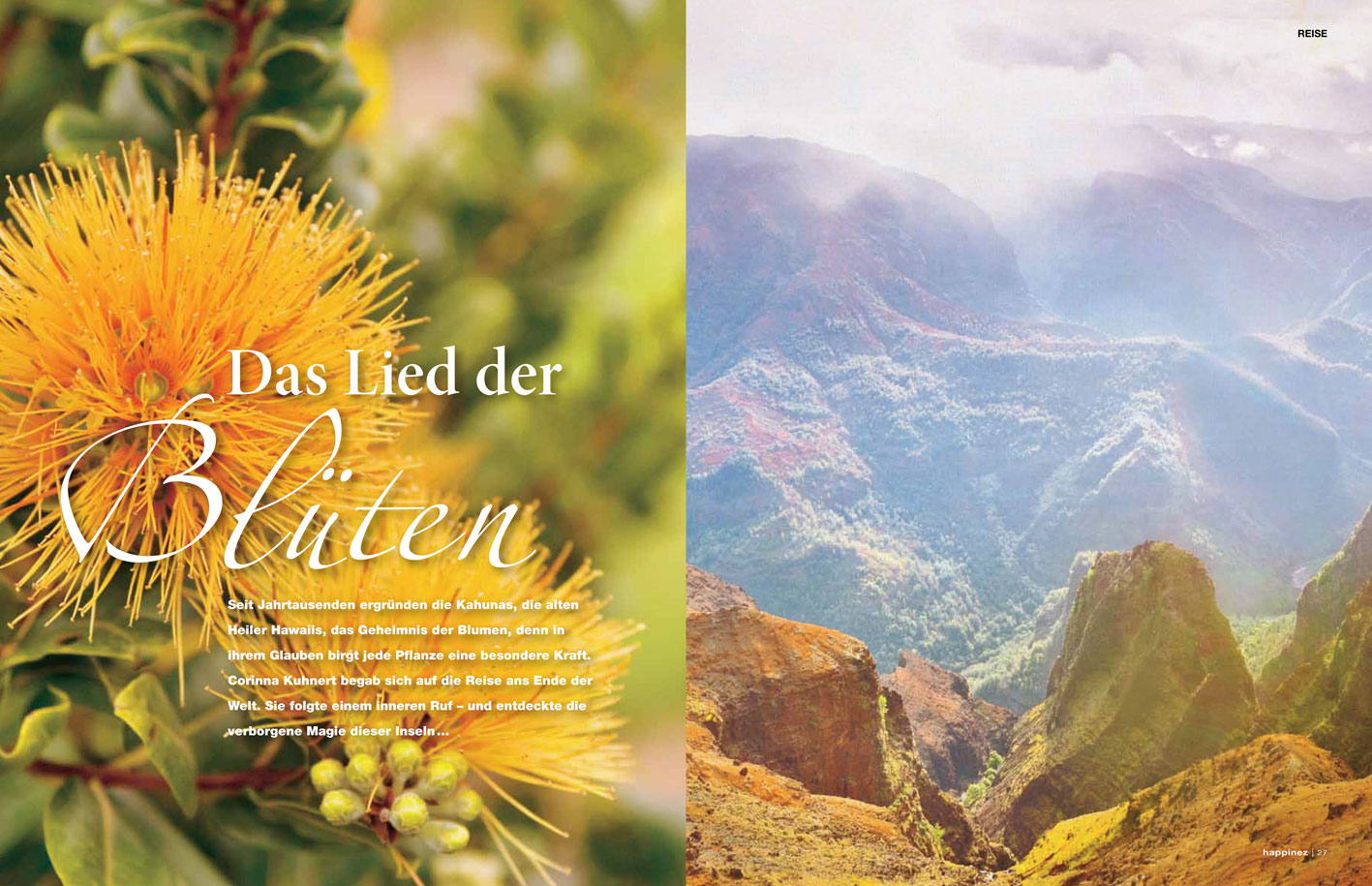 First own elixirs
Later, Corinna combined her Sprays for Aura & Senses with her Hawai'i flower essences. The "elixirs" contain carefully selected, 100% natural essential oils (controlled organic cultivation or wild-harvested) as well as the information from flower essences from Hawai'i. All essences have different, specific effects on the state of mind and can thus all contribute in their own way to spiritual unfolding.
Aloha Senses Perfumes is founded
In the spring of 2020, during the first lockdown, after more than a decade of "Sprays for Aura & Senses," Corinna sat in her studio, fully stocked with special and rare fragrances from all over the world and decided to bring the already more than half-finished natural perfumes to market.
With an enduring fascination for perfume, Corinna enters her master's training as a perfumer with Mandy Aftel – THE natural perfume icon in Berkeley, California (U.S.A..) Mandy has been the owner and nose of the world-renowned natural fragrance Aftelier line for over 30 years.
The ever-dormant desire to create her own complex perfumes grows – and Corinna's aforementioned "ex-works" sensual sense for outstanding fragrance compositions has now been unleashed. Thus, in 2020, our first six Natural Perfumes are created under the Aloha Senses® brand. At the same time, Corinna also refines the existing eight "Sprays for Aura & Senses" once again produces these from now on as Natural Bodysprays.
Each perfume conveys a "message in a bottle
How could we bring the Aloha spirit to your home? Anyone who has ever been to Hawai'i will understand: via scent! With the scent of tropical flowers, underlined with the scent of precious woods or with fragrance facets reminiscent of precious Kona coffee. Some are about "green-earthy" fragrances reminiscent of Hawai'ian rainforest. We have brought the Aloha Spirit to Europe with six natural and elegant fragrance compositions!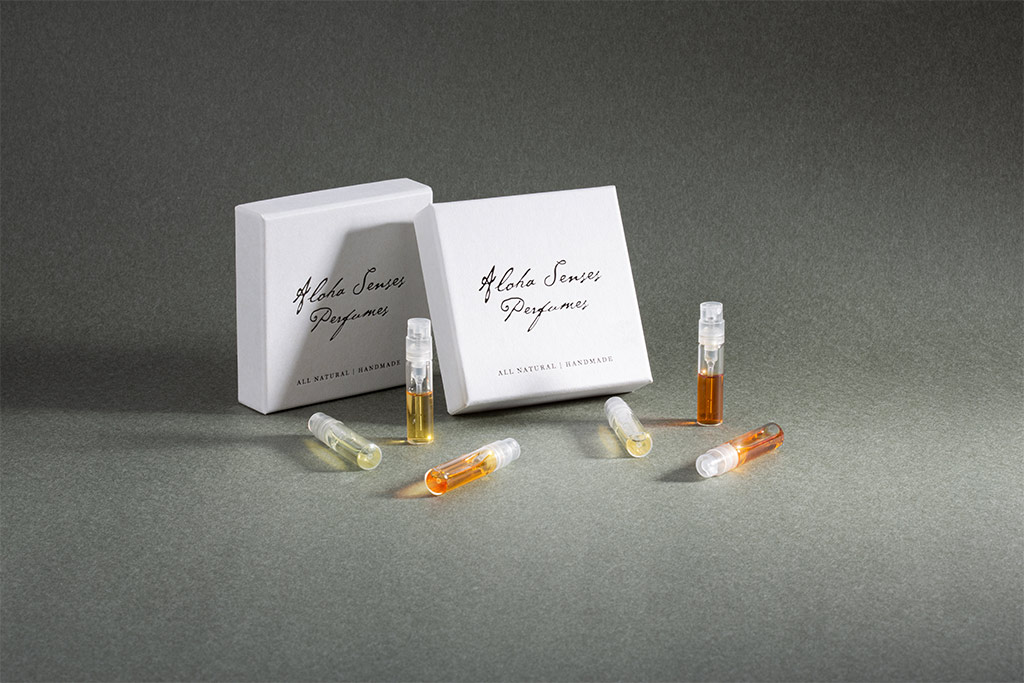 And so the circle closes. With family in Hawai'i, many and long stays in Hawai'i, making our own first flower essences in Hawai'i, and even our own retreats on the Big Island over many years, we at Aloha Senses have Hawai'i in our blood. Our goal was to make [ ALOHA ], a whole life philosophy, enjoyable in six natural perfumes: A "Message in a Bottle"!
[ ALOHA ]
is a Hawai'ian philosophy of life, to meet each other in life with love, esteem and respect. Aloha is universal and transnational. Corinna has made it her mission to bring you the Aloha spirit in our modern world. The healing effect becomes perceptible for you through the luxurious Aloha Senses fragrances, which you can use to enrich your everyday life.
Aloha Senses photo shoot on Bali
in spring 2023 Corinna fulfills a personal dream: in Bali, where Corinna traveled for the first time in 1999, our Aloha Senses photo shoot takes place in the middle of stunning, beautiful nature. The combination of nature, wild beauty and sunshine at heart matches perfectly with our natural perfumes. Discover our photo shoot auf Instagram!