What makes Aloha Senses Perfumes so exceptional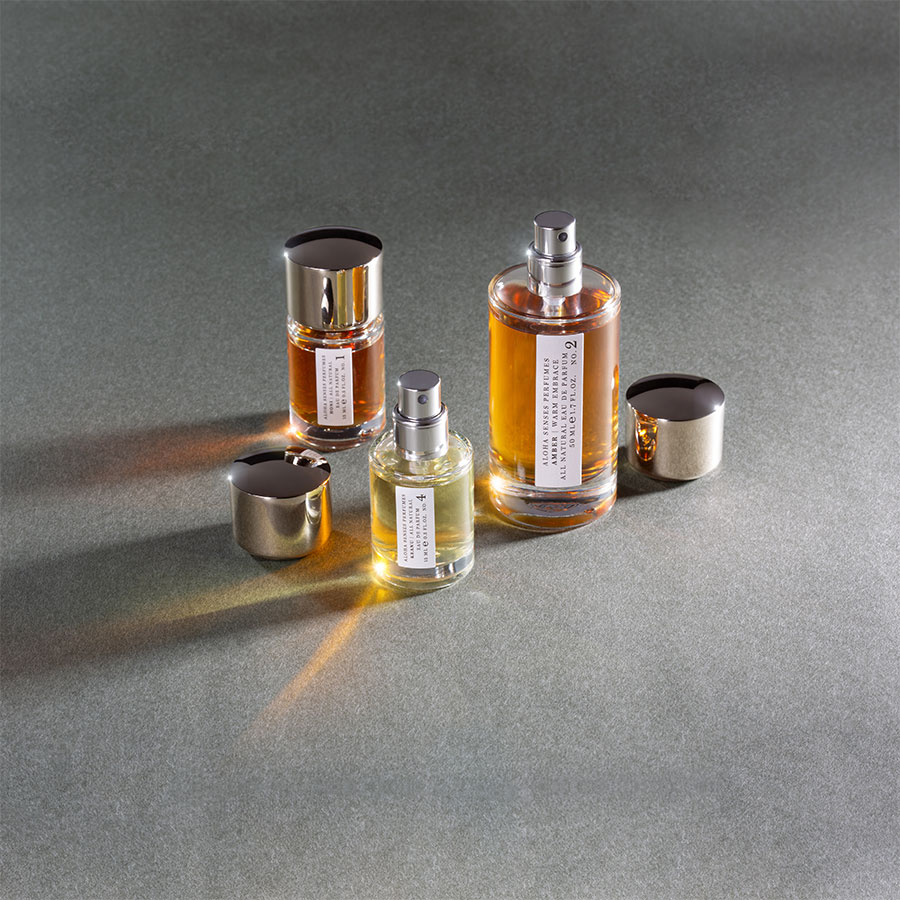 GOOD MOOD | PURE NATURE
We create 100% natural perfume to make you smell amazing, help you avoid toxins, and contribute to your well-being by lifting your mood. The olfactory system is one of the fastest ways to impact your cognitive and emotional state and calm your limbic system.
NON-TOXIC
100% plant-based ingredients, certified organic and/or natural and/or wild-harvested. Free from synthetic substances, phthalates, parabens and dyes. Vegan. We use only certified organic, 100% botanical and undenatured alcohol (no synthetic substances added to make the alcohol unpalatable).
HANDMADE LUXURY
100% botanical, natural, elegant and complex Eau de Parfums with the world's finest pure essential oils and rare flowerl absolutes, resins, precious woods, roots, genuine CO2 extracts and handmade tinctures. Unisexe. We select only the very best raw materials from ethical sources worldwide and ensure transparent supply chains.
ECO-LUXURY PACKAGING
Sustainable packaging made from handmade Japanese bamboo fiber paper – keep the Box! High-quality French recyclable glass flacons. Customized gold-silver zamac perfume caps – made from minerals like zinc and magnesium.
ARTISAN PERFUMERY & ALCHEMY
All Aloha Senses formulations are carefully created by us in our own studio with attention to detail. Our work is based on deep knowledge and our artistic approach – rooted in ancient perfume making techniques, combined with real passion and a pinch of magic! We carefully produce our fragrances by hand in small batches – with love and respect.
HANDPICKED, LUXURIOUS RAW MATERIALS
Corinna owns a niche scent studio filled with exclusive essences which she has been collecting during her travels from all over the world for over 15 years. We select only the very best raw materials from ethical sources worldwide and ensure transparent supply chains. We have bought, researched and smelled over a long period of time! Of the eight vanilla fragrances that made it to our selection, we now use a vanilla absolute that trades for EUR 20,000 per kilo. The rose oil of our choice costs EUR 15,000 per kilo. This is the quality and value you can smell in Aloha Senses perfumes. More info about our 100% Natural Perfumes – see "Ingredients".
BENEFITS NATURAL PERFUME
We all know subliminal whether we can "smell" someone or not. Synthetic ingredients in perfume, on the other hand, drown out their own individual scent and thus subvert a natural ordering principle. Because if you can't perceive the other person's individual pheromones and don't know what he really smells like, you can make a huge mistake in your choice of partner when accepting or rejecting him… Why Natural Perfume?